November 2007:


The Snow Queen
at Chicago's Victory Gardens Theater
Extended through January 6, 2008!
Dear folks: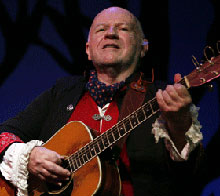 I write from the wild and crazy maelstrom that is deep rehearsal for The Snow Queen at Victory Gardens. As you may know this is the second year they are presenting it and what that means for me is a chance to rework some songs, change some keys and rhythms, and a chance to cut and add some business and some songs too.
This time it's so much closer to my heart's desire and though I loved it last year, with a year's perspective I saw that it could be almost (maybe) an opera, that is, it's now pretty much continuous music. There are a lot of new things going on, and I'm having the time of my life.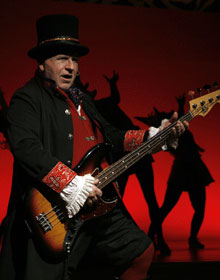 VG is so behind us on this, and I do believe they are planning on making The Snow Queen a holiday tradition at the Biograph if they get any encouragement at all.
We have some new cast members, and some new designers and a great new look. It's one of the best stories in the world, told by the perfect storyteller, Hans Christian Andersen, and I'm very proud of what I've done with it.
So if you like what I do, please come and hear and see it. Bring your kids, your parents and your grandparents, too, if they're still around, and I hope they are.
If my grandpa could have seen this he'd've said: Michael. That was very good. Don't get a big head. Pass the cole slaw.
-- Michael Smith
Late July 2007:
Hi folks:
Thanks for coming out to Fitzgerald's in such healthy numbers ("we'd like to take you home with us, we'd love to take you home"). What moderate faith I had in my crowd-gathering abilities has been totally restored.
On to the Snow Queen in December at Victory Gardens. Some new songs, some new ways of looking at things.
Small Potatoes has recorded a lovely version of "Crazy Mary".
Sons of the Never Wrong are celebrating fifteen years in the business with a concert at the Old Town School in late August.
Corky Siegel has written a book. I read it, and it's great.
Howard Buten (of "Famous in France") has published his seventh book, and has already sold enough to take me and Barbara out to dinner.
Megan McDonough will be at the Theatre Building soon with a new show.
My cool niece Megan Fitzpatrick scored the winning basket for her Florida team at basketball camp in Ohio and got MVP.
All's right with my world. Be well, drive safe, keep an eye on summer.
Love, M
Early July 2007:
Hi folks:
Hope you had a happy 4th.
I cancelled out on my next two Davenport's bookings because I didn't bring in enough people to justify their (very reasonable) standards. Bless them, they were willing to keep going but it made me nervous not to be bringing them more revenue. It's hard enough for clubs these days. Really the nicest people in the world at Davenport's, great sound, great environs and they gave me a good shot but it didn't work out this slow (for me) summer.
And this right after two standing ovations at Kerrville. He giveth and He taketh away. However, my friend the very talented Suzanne Petri is working there the next three Saturdays, you should go check her out, and get her new record.
AND don't forget to come hear me at Fitzgerald's on Wednesday the 25th of July w/ Small Potatoes, or I'll get a rep as Box Office Poison...yeah, the telegram came pouring in, as Steve Allen used to say.
Meanwhile this summer I'm giving some classes at The Old Town School of Folk Music, guitar and songwriting. I gotta say that this is a lot of fun plus I get to stay home this summer and record in the basement, which has become my favorite thing to do. I might be getting a little obsessive but I'm making up songs and arrangements like crazy, and doing a lot of rewriting, which, believe it or not, is a great pleasure. It might be that I'll make my next recording at home. If you hear dogs barking on the CD you'll know.
My friend Anne Hills has a new CD out, her settings of James Whitcomb Riley poems... beautiful and touching, one of her best.
My friends Dyed In The Wool have released a lovely version of my song Stranded In The Moonlight.
And I got a note from my daughter Colleen, who is doing well...it'd been a while...I'm happy as I can be.
Hey the basement calls... Gotta go.
Love to all, M.
Late Jan 2007:
Dear folks:
Snow Queen closed January 14, and I must say I had a wonderful time. The most talented cast in the world, and the people at Victory Gardens are lovely and supportive. I'm happy to say that SQ did very well, so well that we will be doing it again next Christmas at the same location, hopefully with the same cast.
Work has begun on a CD (thanks for the inquiries) and I'll be sure to let you know when that's available. Meanwhile I'll be doing some concert gigs and working on another musical, perhaps another Andersen. If you come to see me and my head is in the clouds I hope you understand.
Michael Smith
Early Jan 2007:
Dear folks:
The Snow Queen has been playing to packed houses who have been very enthusiastic, to say the least. It's a once-in-a-lifetime experience to be working with this cast of talented and happy people, wonderful actors and great singers.
I'm writing this on December 30th and if you're in the Chicago area before we close (January 14th) I'd encourage you to come see and hear us at Victory Gardens at the Biograph.
The reviews were very gratifying and I'm proud of this work. Happy New Year!
Michael Smith

(No 2005 comments)