Pasiones:
Songs of the Spanish Civil War 1936-1939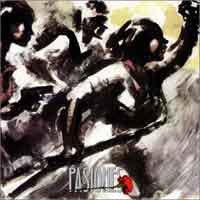 (1997, Bird Avenue)
Vocals

Michael Smith:

Vocals, Guitar

Katrina O'Reilly:

Vocals, Clarinet, Piano
Pasiones was written and adapted by Michael Smith and Jamie O'Reilly and debuted in the Rhino in Winter Theater Festival, 1997, at the Lunar Cabaret in Chicago, IL. It was directed by Peter Glazer.
Pasiones was inspired by the music of Eddie Balchowsky.
Cover painting: She Saw Him Fall by Sim, 1936
Graphic design: Colm O'Reilly / Leech Soup
"Smith and O'Reilly demonstrate powerfuly that the music by the people who fought and died (in the Spanish Civil War) resonates throughout time and space... They're not just going through the motions, every song receives a passionate treatment worthy of the subject."
Sing Out! Magazine
"It is more than glorious music they offer us; it is our history that would otherwise be forgotten. At a time when passion is so lacking in our lives, these two artists set our hearts on fire! Viva Jamie and Michael!"
Studs Terkel
See also: Spanish Civil War site. (This will open a new browser window.)
Songlist:
Tu Que Brillas **
Quinto Regimiento
Songs of the United Front


Words: Bertolt Brecht Music: Hans Eisler

Peat Bog Soldiers


Attributed to an unnamed prisoner at the Borgemoor Concentration Camp, Germany, 1933

Song of the American Consul / Quartermaster Song **
Gunner Name of Bill


Words: Theodore Cogswell Music: Michael Smith

Cook House / The Young Man from Alcala
En La Plaza de mi Pueblo *
Viva la Quince Brigada
Bon Cop de Falc (Anthem to Catalonia) *
Freiheit!: Song of the Thaelmann Battalion


Words: Peter Daniel Music: Karl Ernst

Los Cuatro Generales


New Translation: Michael Smith

Si me Quieres Escribir


Words: Al Prago Music: Traditional

Asturias **
Lament for Ignacio Sanchez Mejias


Words: F. G. Lorca Music: Michael Smith

Rozhinkes mit Mandlen
Song of the International Brigade


Words: Erich Weinart Music: Espinosa-Palacio

Beloved Comrade


Words: Lewis Allen Music: Fred Katz

Los Marineros *
Jarama Valley


Words: Lincoln Battalion Tune: Traditional
Musical sources:
* From Espana-1936-1938: 25 Hymnos y Canciones de la Guerra Civil Espanola.
** From Songs from a Franco Prison, Max Parker, 1982.
All other songs traditional except as indicated.
Executive Producers: Jamie O'Reilly & Michael Smith
Produced by Stuart Rosenburg
Musical Arrangements by Michael Smith, © 1997 Bird Avenue
This recording made possible by support from WFMT, Chicago Fine Arts Station
Recorded by Mary Mazurek, June 1997, at Studio 1, WFMT.
Mixed and mastered by Stuart Rosenburg at the Bat Cave.
Not currently available.